A UCLA School of Nursing doctoral student's scholarly project is helping improve outcomes in patients with an often-forgotten medical device. The study marks the Doctor of Nursing Practice program's first scholarly project to be published in a major academic journal. 
The project, published in the Journal of Radiology Nursing, examines the retrieval rates of temporary inferior vena cava (IVC) filters and explores a tracking system to improve those rates. 
IVC filters are commonly placed in patients with blood clots as a method to prevent clots from traveling to a patient's lungs causing a pulmonary embolism (PE) – the leading cause of preventable hospital deaths in the United Stated. The metal device is implanted in a patient's inferior vena cava, a large vein in the abdomen responsible for moving blood from the lower body to the heart. Temporary IVC filters are placed with the intent of having them removed once the risk of a PE has passed or the patient can tolerate being on a blood thinner, and ideally no longer than 54 days, as recommended by the FDA. However, they are often left-in-place far longer than medically viable, an issue that can lead to new problems for patients. According to researchers, the national average rate of retrieval is roughly 30%.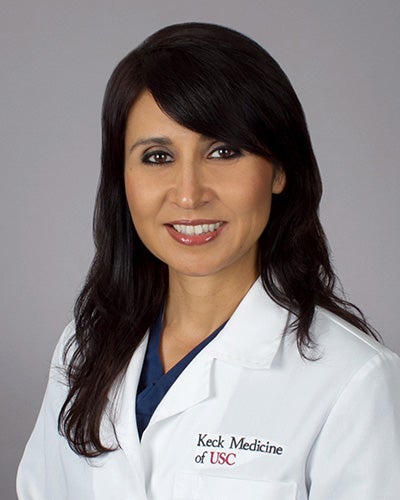 As a nurse practitioner in interventional radiology, Ana Barajas, DNP, RN, CNS, ACNP, has seen this problem firsthand. So, when the time came to select a scholarly project for her DNP program, she knew exactly what she wanted to explore. 
"Many times, these devices are implanted while a patient is in the hospital dealing with several issues. And because you don't feel the filter, patients often forget they've been placed and can be easily lost to follow-up," said Barajas, who graduated with her DNP in 2021 and is the lead author of the study. "Our work hopes to change that through the implementation of a robust tracking protocol."
The study followed patients for one year following the placement of a filter. After implementing the tracking framework, researchers saw statistically significant retrieval rates of eligible IVC filters increase from 64%, the historical average at the study site, to 100%. While patients lost to follow-up decreased from 35.9% to 0%. 
"I think our work has shown that these types of quality improvement efforts can make a big difference," Barajas said. "To be able to reassure patients that there is a system in place to make sure these devices are removed when they need to be is very gratifying and something that I think most organizations want to be able to do." 
The filter retrieval protocol was developed using evidence-based literature findings and effectively standardizes the retrieval process for health care providers. The study outlines a seven-step process for monitoring and tracking a patient's progress. These steps include updated documentation related to the future removal, provider/patient discussions, and automated electronic alerts that notify providers when follow-up is needed. 
Barajas hopes the success of her study will motivate health care organizations to adopt similar quality improvement protocols to better serve patients and improve outcomes. 
The study and subsequent publication mark a major milestone for UCLA Nursing's DNP program. Part of the second student cohort, Barajas is the first DNP graduate to have their scholarly project selected for publication since the program's inception in 2018. 
DNP candidates are required to conduct a scholarly project to demonstrate critical analysis and synthesis of scientific evidence for application to practice, and to create new knowledge for evidence-based practice. Program directors say DNP graduates are preparing to be leaders for the translation of research into practice, which is precisely what Barajas and her co-authors hope to achieve with this work.
"Dr. Barajas carried out a successful quality improvement project with the intervention becoming a standard of practice in the institution where she is employed. It is challenging to get published and her accomplishment reflects the quality of work that she carried out," said Nancy Jo Bush, DNP, RN, MA, AOCN, FAAN, director of UCLA Nursing's DNP Program. "We hope that more DNP students take the initiative to publish their work as it speaks well for what DNP advanced practice registered nurses contribute to health care change and improvement in patient outcomes."