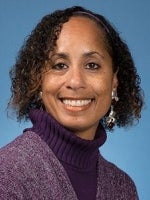 Award Year: 2017
Rhonda Flenoy-Younger retired in June 2019 as the the Director of Recruitment, Outreach and Admissions and Assistant Director of Diversity, Equity and Inclusion at the UCLA School of Nursing. She has been employed at the University of California, Los Angeles since 1983 and with the School of Nursing since 1985.
In honor of Flenoy-Younger, the Pan African Nursing Student and Alumni Association (PANSAA) established a scholarship in her name for the critical role that she has played in supporting students of color in the School. Since the formation of PANSAA in 1990, she has been a dedicated staff advisor and advocate, ensuring the consistency of PANSAA graduations, celebrations, events, and other programs. Flenoy-Younger has truly been at the heart of PANSAA. All proceeds to the "Rhonda Flenoy-Younger PANSAA Scholarship in Nursing" will support PANSAA members who demonstrate high academic merit and financial need as determined by the UCLA Office of Financial Aid.  The UCLA School of Nursing will determine the amount and term of each awarded scholarship. Any student who is a member of PANSAA, regardless of race or ethnicity, will be eligible.
While she was employed with the school, Flenoy-Younger's responsibilities were to manage the recruitment, preadmission counseling, outreach and admissions for the Undergraduate and Graduate programs in the School of Nursing. She represented the School of Nursing at local, state, national and international conferences and conventions.
Flenoy-Younger is also a member of the School of Nursing Diversity, Equity and Inclusion Council and established the Safe Zone for Students. The Safe Zone is a space where students can find a listening ear, encouragement and guidance in confidentiality.
In 2004 Flenoy-Younger received the Fair and Open Academic Environment Award from the University of California Academic Senate for her valuable contributions to the work of the University. She also received the 2009 Best Practice in Graduate Nurse Recruiting award from the American Association of Colleges of Nursing.
Flenoy-Younger coordinated several programs at the school of nursing including the Summer Internship Program for Underserved Middle School Students in South Central Los Angeles; Admission Information Sessions for the Bachelor, Master of Science in Nursing and Doctor of Philosophy Programs and the Summer Research Program for nursing students enrolled in a BSN program interested in Research and pursuing a Doctorate Degree in Nursing.  She is also the coordinator of the UCLA School of Nursing Mentorship Program.
Flenoy-Younger has fostered many strong relationships with parents, students, and alumni over the years. It's the reason that many know her as "Mama Rhonda".
Rhonda also won the Hassenplug Volunteer Service Award in 2019.