Kyle Krepistman MECN Excellence Scholarship in Nursing
A Message from Faculty Barb Demman
In Memoriam – Kyle Krepistman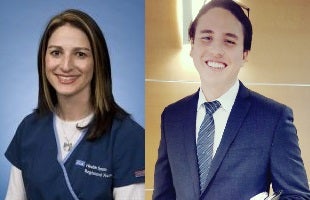 Dear UCLA School of Nursing Family,
It is with a heavy heart that I announce Kyle Krepistman's passing. Kyle graduated from our MECN program in 2014 and was beloved by his fellow UCLA School of Nursing students, faculty, staff, and everyone he touched throughout his life. He is survived by his parents, Mike and Lori, and his fiancée, Karen. Before his passing, Kyle recently accepted a position at Kaiser Downey as an Acute Care Nurse Practitioner in their Neurology Department and Stroke Coordination—and he was also engaged to be married next Summer 2020.
Kyle and I traveled together on medical missions, worked at large events within medical volunteer departments, and he also came and guest lectured every year to MECN students in my MedSurg courses. He and his fiancé, Karen, came and brought us food after my daughter, Rocky, was born and were such great helps in our time of need. He was compassionate, thoughtful, and cared for so many people.
Many students in his cohort may remember during his time here as a student, he organized all MECN's to do a video of the "harlem shake" in the auditorium, and he was instrumental in the Men in Nursing student organization. Kyle was full of life-- intelligent, fun, engaging, and so devoted to nursing and many other things.
To help honor his memory, I am organizing a Scholarship in Kyle's name.
The Kyle Krepistman MECN Excellence Scholarship in Nursing, set to benefit nursing students who exemplify Kyle's energy, enthusiasm, and devotion to nursing, is just one of many ways Kyle's Bruin legacy continues.
In lieu of flowers, I ask that you support this Scholarship Fund in Kyle's memory. Please consider joining me, Kyle's family, and many others by making a gift to impact many MECN students through future years.  You can participate by clicking here.
Thank you for considering leaving a gift in Kyle's memory—a true Bruin, and a genuinely kind person.
Warmly,
Barbara Demman, RN, MSN, ACNP, CNS
UCLA School of Nursing- Lecturer